I'm not sure I've ever had such a paradox of a weekend. Knowing we had a trip coming up, I proceeded to put on somebody else's Superwoman cape and cooked and got food all ready like there was no tomorrow. And I felt it the next morning... and the rest of the weekend. Traveling and lack of sleep also helped all that. By Saturday, every single inch of my body felt like it had been put through a ringer. And I still feel it now.
So as far as my body problems go, it was not a nice weekend. But in a completely different area, it was awesome.
Of course these cookies had to come with me... They're not the prettiest things, but they're quite heavenly...
We have passed this house for years while headed south. I've decided it's impossible to get a good picture of it whilst flying down the Interstate...
True love is letting your husband eat Red Robin in front of you, without getting mad that you can't have any of it. :P
;) <3
Look, more food that I whipped up for the trip! This amazingness is coming to the blog on Wednesday! :D
Pilot Mountain, aka Mount Pilot, in the distance.
Extra grateful for this guy--who's Superman every single day.
Daniel had a job interview in North Carolina, and long story short, he got the job! We've been in the job hunt mess ever since last summer when an opportunity we were banking on fell through, but not until after we had moved out of our apartment to stay with my parents for a couple months in anticipation of the move, just until he started the new job out of state in the fall. So we've been in limbo ever since.
It has really, truly felt like this day would never come. So for obvious reasons, this new job--and a lovely trip to North Carolina, including a stay at some relatives' gorgeous home--are what I am so grateful for today.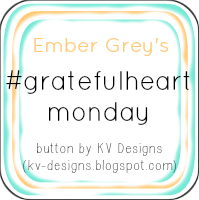 We have got the craziest couple of weeks coming up. But man alive, let the long-awaited craziness begin!
P.S. Also linking up with Little Friday