So, do you guys notice the difference? (Surely... ;) I gave my blog a brand new look! (
I warned you
it was inevitable.) And let me tell ya--designing one's own blog is soo much harder than designing for someone else. Who's pickier than one's own self?? Sigh. But I did it! And I like it. And the best part is that now there's room for my pictures to be ha-uge! ;D I think the lady at
KV Designs
did a mighty fine job. :)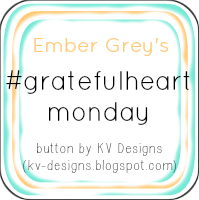 Meanwhile, today is
Grateful Heart Monday
. And this week:
~
I'm grateful that I got this blog redesign done! And I'm glad I just did it (not to imply it was a quick little job or anything) instead of waiting longer!
~
I'm grateful I finished a friend's blog design this past week, and I think she likes it. ;)
~
I'm grateful that a new supplement is in my future that should be much more effective than a current one.
~
I'm grateful that I seem to be able to handle lowering a dose of a current supplement that was to protect me from an extra strong one. Boo-ya! :P
~
I'm grateful that I have finally, finally begun the journey of cutting chemicals out of my life. One shampoo, one shave gel at a time. You can bet there will be future posts on this topic.
~
I'm grateful that I can finally eat chocolate chip cookies. Had them for the first time in about 8 months a couple weeks ago. And I think we've already made them 3 times. Rest assured, there will be a post for that too. They're
amazing
--and not bad for you. :O (And no, they don't have bananans and coconut in them like everything else I make. Just a little coconut. :P)
So what are you grateful for this week?
Please keep me in mind for your next blog redesign,
or pass me along to your in-need friends! :)